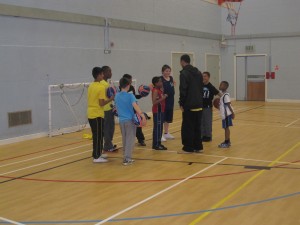 The name Deighton and Basketball has been synonymous for thirty years plus, going back to the late seventies, early eighties. The initial setting up of Deighton Basketball was in conjunction with the local Youth Centre, which formed the focus of youth activities in the Deighton area of Huddersfield.
Deighton Basketball has continued to be very successful due to the hard work and dedication of the Deighton (mens) and Deighton (Ladies) teams who have run their clubs independently in recent years.
Junior Basketball development has also continued in recent years, with regular Coaching sessions every , led by Level 2 coaches Eugene Andrew and Hassan Haq, ably assisted by Errol Lewis who bring with them a wealth of Basketball experience and skill. 
In addition we are very fortunate to have a local Level 2 Coach Andrew Ball assisting with the future development of our Juniors.
In 2015 we were rewarded for all the hard work by our coaches with an influx of young players taking the average up to 22 per session, and this has continued through out 2015 & 2016 taking the average up to 30.
Weekly (Juniors) Sessions
Thursday's @ The Deighton Sports Arena (5.30pm – 7.00pm) for 7 – 16 year olds.
Deighton Basketball (Seniors) Sessions
Friday's @North Huddersfield Trust HS (6.30pm – 8.30pm) for Open Age
Sunday's @ North Huddersfield Trust HS (2.00pm – 4.00pm) for Open Age (Women & Girls)
 
 We are building foundations for the future.  Our long term goal of having both Senior and Junior teams for both Men, Women, Boys & Girls running parallel so that Deighton Basketball can continue for a further thirty years, has begun.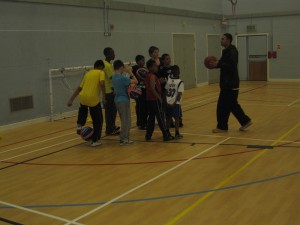 Crucial development links and support has been given by West Yorkshire Sport Basketball Development, Kirklees Council Sports Development and Leeds & District Basketball League.
We recognise there are a number of talented Junior Basketball Players in the surrounding Communities and if we can help develop them, then in turn they and ourselves will benefit.
We are looking to return to the successful days where the local Community turned out in numbers to watch Deighton Basketball Ladies, Men and Junior Teams.
We look forward to our Basketball Club going from strength to strength in the future.