Deighton Into-Sport Project has successfully run a Saturday Football (skills) Club for young people every week since 2003 with local coaches and players.
Recently we have been rewarded for all the hard work and credibilty of our coaches by an influx of younger members.  We now have players as young as five years of age who are  remarkably skilful for their age.  We now boast over 250 junior members within our club. Our weekly register shows between 110 and 120 regular members, and an average attendance of  90.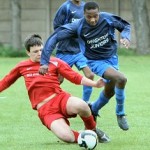 Developed through the Saturday Club is our exciting Deighton Juniors Football Club. We have seven junior teams that compete in The Huddersfield RCD Fo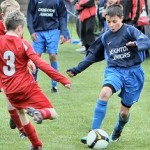 otball League and hold regularly coaching sessions by local Level 2 & Level 1 Coaches twice a week….
Coaches
Our Football Club is lead by Senior Coaches:
Dwight Noel & Head of Junior Development Mckenley Taylor.  
With Club Coaches
(under 14s) Dominic Webster / Kushinga Nyatanga
(under 12s) Jason Hamilton/ Dwight Noel
(under 11s)  Martin Johnson/ Trevor Andrew  
(under 10s)  Mckenley Taylor / Basil Richards
(under 9s) McKenley Taylor / Reuben Tawodzera
(under 8s) McKenley Taylor / Aaron Joseph / Basil Richards
(5 – 7s) McKenley Taylor/ Dwight Noel 
Weekday Training
Tuesday's & Wednesdays are Club Session Nights 5.00pm – 7.00pm at three venues:-  The Deighton Centre (sports hall), North Huddersfield Trust HS (sports hall) & Deighton Sports Arena
The Saturday Football (skills) Club:
10.30am – 12noon – Ages 5-16 yrs old. Coaching in Football Development Skills and the Game of Mini Soccer!    With 12, locally Qualified Football Coaches @ The Deighton Centre Playing Fields (outdoor) weather permitting & Deighton Sports Arena (indoor)
League Games
Saturday's: kick/off's from 10.00am – under 8s, 9s, 10s & 11s 
Sunday: 11.00am kick/off – under 12s 
Sunday: 2.00pm kick/off – under 14s
Joining/Find out more
Interested in joining a team or coaching session? Then please ring Deighton Into-Sport Project on 01484 414936,   07757 423763    or    07894 054042
CLIFTON Rangers & AFC Huddersfield JOIN FORCES WITH DEIGHTON INTO SPORT PROJECT at DEIGHTON SPORTS ARENA & NORTHFIELD HALL COMMUNITY CENTRE
We are pleased to tell you that the Clifton Rangers FC and AFC Huddersfield are now playing all their home games, first team and reserves, at Deighton Sports Arena, HD2 1JP. And on the new pitch at Northfield Hall Community Centre, HD2 1GS.
These affiliations are seen as a real step forward for our football development. This means that as our players get older and more mature we not only, have a Deighton FC senior team, but also two additional outlets for our young players playing at a high standard where they can continue their playing careers.